Posted by NavePoint on May 11th 2021
Fixed 4-Post shelves are the most basic type of 4-Post shelves. They offer great value for the amount of weight it can hold, so if you have a piece of non-rack-able equipment for your 4-Post cabinet, the fixed 4-Post shelves might be your best option. Located below are three things to consider regarding Fixed 4-Post shelves.
1. Adjustable Mounting Depth
While the words fixed and adjustable sound conflicting, most Fixed 4-Post shelves have adjustable depths. Meaning, the mounting depths are adjustable, but the shelf's location is fixed. If you wish to purchase a shelf that can slide in or out, check out our previous post about the Top Three Things to Know About 4-Post Sliding Shelves.
The mounting depth is the distance from the mounting surfaces of the two posts in the front to the mounting surface of the two posts in the back of the cabinet or rack. Most Fixed 4-Post shelves have arms that can extend to accommodate various mounting depths, but the shelf's usable depth is fixed.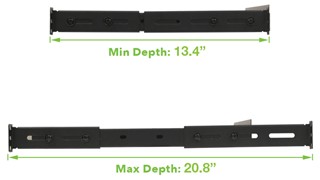 As an example, NavePoint 1U Vented 4-Post Shelf 14" (350mm) Deep has a minimum mounting depth of 15.5" and a maximum mounting depth of 20.8" with a physical shelf depth of 13.8". It will fit in both NavePoint 9U Side Load Wall Mount Network Rack which has a 20.5" fixed mounting depth, and a NavePoint 9U 450mm Depth Wallmount Networking Cabinet (Pro Series) which has a max mounting depth of 14.5"
2. Higher Loading Capacity
With equipment's weight distribution evenly distributed, Fixed 4-Post shelves can handle more weight than any other type of shelves. NavePoint 1U Vented 4-Post Shelf 14" (350mm) Deep has a maximum weight capacity of 242 lbs. which is sufficient for most applications.
However, not all equipment weight can be evenly distributed. For example, a standing computing tower's weight is concentrated and often sits in the middle of the shelf. Although brands do not usually discuss this, having lips either pointing upward or downward at the front and rear of a shelf can significantly increase the shelf's capability to support a concentrated load in the middle. Therefore, when choosing a shelf, it is a good idea to pick one with shelf lips even if you don't need it.
3. Functional Shelf Vents
The last item to consider is shelf vents. In the beginning, shelf vents were created to improve the airflow inside a cabinet. However, shelf vents have evolved into an equipment security and cable management feature. More often, shelf vents are used in conjunction with plastic clips to keep NAS systems in place, or cable ties are looped through for cable management.
More vents indeed lead to more functional flexibility. However, more vents do create more manufacturing issues that add cost and lowers quality. It goes without saying that the more work that needs to be done to a part, generally makes the part more expensive. However, people outside of the sheet metal manufacturing industry might not know that the closer hole punches are packed together, the higher the chance the sheet metal will warp, and the intended flat surface is no longer flat. High-end German machine builder, Trumpf, created new machines and new tools to reduce the warp, but products made with these machines would probably cost more. We are not saying that all parts with tightly packed punches will warp. We just want to share some knowledge about sheet metal manufacturing and that sometimes more holes are not necessarily better.
Summery
Overall, a fixed 4-post shelf is an effective rack accessory that is part of most 4-post builds. The top three things to consider are the mounting depths, the weight capacity, and the shelf vents. I hope you have a better understanding of the importance of shelf lips and why too many shelf vents might be a risky choice.
Contact NavePoint's sales or customer service team at 888-505-1363 to learn more about how we may be able to help with your specific need!
Copyright © 2021 Infinite Electronics International, Inc. All Rights Reserved.